READ THESE INSTRUCTIONS TO PLAY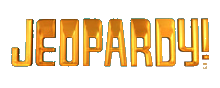 ONLINE
The next screen is the HOME screen with the Jeopardy board.

Pick a category and click on the dollar amount (as you'd expect) – you will get the "answer"

To see the correct "question," click the forward arrow at the top.

Next, return to the Jeopardy board by clicking the "HOME" icon on the bottom right and repeat steps 2 & 3 until you've completed the board. Then go on to Double Jeopardy!
Click here to continue to Double Jeopardy